Graham Doyle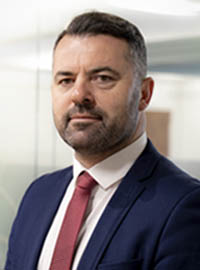 Graham Doyle is a Deputy Commissioner and Head of Corporate Affairs, Media and Communications with the Irish Data Protection Commission (DPC).
Within the Corporate Affairs function, Graham is responsible for the DPC's Finance, Procurement, Corporate Services, Governance and Risk and Staffing and Training Units and he is a member of the DPC's Audit and Risk committee.
Graham also develops and manages the DPC's Communications Strategy, which includes extensive national and international media engagement, attending and speaking at events domestically and abroad and delivering a comprehensive internal communications programme for the DPC. In 2020, this Strategy includes the development and operationalising of a DPC-facilitated Data Protection Officer (DPO) Network. In addition, the DPC is also commencing a two-year EU funded project in collaboration with the Croatian Data Protection Authority to raise data protection awareness within SMEs.
Graham previously held the roles of Head of Communications and Research at the Garda Síochána Ombudsman Commission (GSOC) and Student Universal Support Ireland (SUSI) and he holds a graduate honour in Public Management, specialising in Law and the Administration of Justice.