Dale Sunderland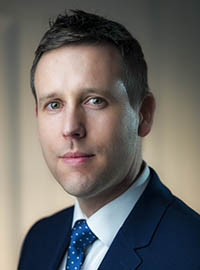 Dale Sunderland was appointed Deputy Commissioner for Data Protection at Ireland's Data Protection Commission in May 2016.
Dale has responsibility for the Commission's Regulatory Supervision, Guidance and International Affairs functions. Previously Head of Communications and Corporate Secretariat at Ireland's Department of Justice and Equality, he also held various positions at that department working on Irish-British immigration cooperation, EU criminal justice and policing policy, corporate governance oversight, and international, parliamentary and media affairs.
He holds graduate and postgraduate honours qualifications in Business Studies and Public Management.